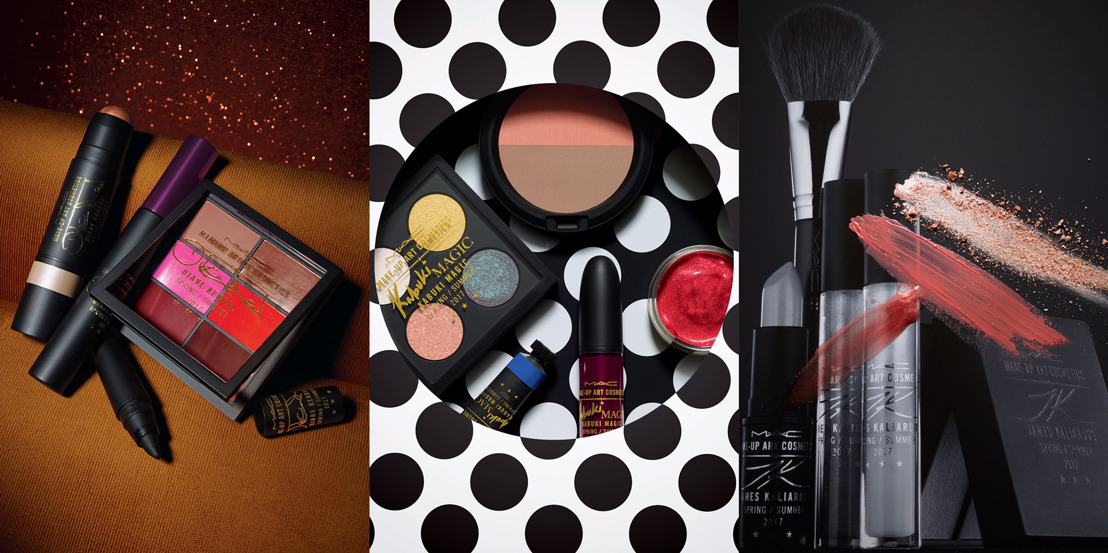 M.A.C Cosmetics announces #MACMakeupArtCosmetics
Maandag 6 juni 2016 — M∙A∙C Make-up Art Cosmetics: #MACMakeupArtCosmetics
Coming January 2017
Makeup masters Kabuki, James Kaliardos and Diane Kendal create iconic beauty styles that impact the runway and culture at large. Now, they join forces with M·A·C to channel their unique talents into individual colour collections reflecting their signature styles. Coming in January 2017!
Hashtag: #MACMakeupArtCosmetics
M∙A∙C social handles: @MACcosmetics
Availability: Coming January 2017
Collection Details: 50 products for eyes, lip and face
Quote from M∙A∙C Senior Vice President/Group Creative Director James Gager: "Makeup professionals embody the spirit and heritage of the M∙A∙C culture. Legendary makeup artists Kabuki, James Kaliardos and Diane Kendal have been a part of the M∙A∙C family for many years, keying our shows at fashion weeks around the globe and working on our various visual campaigns. It was only natural that we collaborate with these artistic visionaries, each revealing their distinct makeup personalities, on an extensive 50 piece collection."
Quote from M∙A∙C Senior Vice President, Global Product Development, Jennifer Balbier: "Artistry and product innovation are at the core of MAC Cosmetics. For many years we've worked with Kabuki, James and Diane backstage creating makeup looks and providing invaluable new product feedback at countless fashion weeks. It was a natural progression to collaborate with them on their own collections with new products and their favorite shades and tools."
Quote from Kabuki: "M∙A∙C gave me complete freedom with this collection and turned my wish list into reality. Whether you're a make-up artist or if you just like getting dolled up, I think you will love the colors, textures and long-lasting wearability of these products."
Quote from James Kaliardos: "I've been using M∙A∙C since I started working as a makeup artist and I am thrilled to work with them on this collection. I drew inspiration from their archive of colors that I've loved and used over the years. I want every woman using my products to feel beautiful and confident by being able to perfect her look in an easy to use way."
Quote from Diane Kendal: "Working with M∙A∙C in a variety of ways over the years — be it on shows or campaigns — I have always loved their products and this is reflected in my work and my kit, as I am always fully stocked with M∙A∙C. I'm very excited to have been asked to collaborate on this collection with James & Kabuki as we all have our own distinct styles which will compliment and show case the collection to its fullest."